All vehicles registered to a Melrose Park address must have a sticker purchased and displayed by the deadline, which is February 15, 2018. After that date a fine will be assessed to owners of vehicles who have not purchased a sticker.
Here are your two options to purchase a vehicle sticker(s) to avoid future penalties: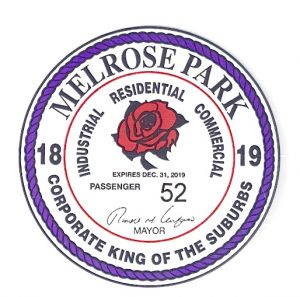 OPTION 1- ONLINE
The easiest option is to click on the vehicle sticker seen at the left and you will be directed to a 2018 vehicle sticker application form to fill out and pay on-line. ****2.99% on-line processing fee + $3 per sticker (in most cases the fee is less than $5)
OPTION 2- IN PERSON
Melrose Park Civic Center – 1st floor Mayor's Office – 1000 N. 25th Avenue
Open: M-F: 9:00 AM 5:00 PM Closed: Sat. and Sun.
OR You can purchase 2018 Vehicle Stickers at the following 2 locations:
– Melrose Village Currency Exchange at 2225 W North Ave Unit J
Hours: 24 Hours M-F; 8:00am-Sat. 6:00pm; Sun. 10:00am-5:00pm
– Melrose Currency Exchange at 130 Broadway Ave
Hours: M-Th. 8:30am-6:00pm; Fri. 8:30am-7:00pm; Sat. 8:30am -1:00pm; Closed Sun.

****There will be a $5 currency exchange fee per sticker (including the no charge seniors sticker).
Click to Read About Fee Structure and Senior Sticker Discount