Village Departments
Village Hall
Hours
Monday-Friday 9:00 A.M. to 5:00 P.M.
Saturday - Closed
Birth and Death Certificates can be obtained at the Village of Melrose Park ONLY for Gottlieb and Westlake Hospital. State I.D. must be presented at time of request.
Price For Birth Certificate - $12.00 for first copy and $2.00 for each additional.
Price For Death Certificate - $13.00 for first copy and $4.00 for each additional.
Vehicle Stickers for Melrose Park Residents Only! Current vehicle registration required.
Passenger - $30.00 for two years
Seniors - Over 65, free for a passenger vehicle for two years.
Trucks - B plate - $50.00 for one year; anything over a B plate is $75.00 for one year.
Mayor & Council
Ronald M. Serpico

Mayor

Mary Ann Salemi

Village Clerk

Anthony N. Abruzzo

Trustee

Cathleen Cossident Italia

Trustee

Jaime Anguiano

Trustee

Mary Ramirez Taconi

Trustee

Arturo Mota

Trustee

Anthony J. "Tony" Prignano

Trustee
Ambulance Service
If you need an ambulance, please dial 911.

The two Melrose Park ambulances are operated by paramedics who are educated in various advanced life support techniques. Ambulance fees are $300.00 for basic life support and $750.00 for advanced life support services. Billing is sent to your insurance company.

To visit our website, click here.
No one, and we stress no one, is denied ambulance service for lack of financial resources.
Building, Planning, and Zoning Department
Building Commissioner
Ralph Sorce
(708)343-4000 ext.4470
E-Mail: rsorce@melrosepark.org
Please note that registration does not replace building permits or other required information.
General contractors are responsible to assure that all their sub-contractors are licensed in Melrose Park. Failure to do so may result in citations, fines and work stoppage on site.
Human Resources
Jackie McMillian
(708) 343-4000
E-Mail: jacmac@melrosepark.org
Code Enforcement
Bill Campanelli, Assistant Fire Chief
(708) 343-4000
Hours: 9 a.m. - 5 p.m.
Code Violations & Inspections
Applicable Codes
Code Enforcement Ordinances
The Village of Melrose Park has adopted many codes and ordinances that are intended to improve and protect the health, safety, and welfareof the general public. The ordinances seek to promote a desirable neighborhood living environment, prevent nuisances or preserve Department Information property values.

For questions, you may contact the Code Enforcement Department at (708) 343-4000 Ext 4424.
Your call will be handled confidentially.

Code Enforcement Officers are assigned a geographic area of The Village of Melrose Park and are responsible for the enforcement of the Village Building and Zoning codes, Sign Code, Nuisance Codes and Property Maintenance Codes.
Emergency Services & Public Safety
The Village of Melrose Park Emergency Services/Public Safety website includes services and contact information. Visit the Department of Public Safety website at http://www.mpps.us/.
The Melrose Park Emergency Services/Public Safety Department provides a variety of services to the village. The services provided in an emergency include shelter, communications, tornado warnings, and public Information.
ESPS assists the police and fire departments as needed. ESPS also provides non-emergency services such as traffic and crowd control.
Contact the Village of Melrose Park Emergency Services Public Safety Department at (708) 345-4350.
Department of Economic Development
Special Projects & TIF Management
Mike Sicuro Jr., Director
(708)865-8809
E-Mail: msicuro@melrosepark.org

Richard Battaglia, Assistant Director
(708)865-8809
E-Mail: rbattaglia@melrosepark.org
Economic Development Project
Fire Department
The non-emergency number for the Melrose Park Fire Department is (708) 344-1210. Visit our Fire Department page for more information on this Department's services.
Hispanic Liaison for the Village of Melrose Park
The mission of the Mayor's Hispanic Liaison position is to ensure that Melrose Park government is an effective partner with the Hispanic Community in improving the quality of life and promoting economic development.
San Anguiano
(708) 288-9482
E-Mail: sananguiano@comcast.net
Police Department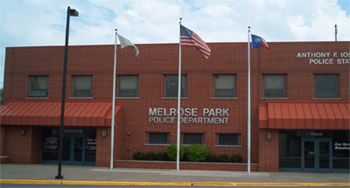 Melrose Park Police Department
1 North Broadway
Melrose Park, IL 60160
Non-Emergency: (708) 344-8409
Emergency: 911
The Village of Melrose Park Police Department's website includes department and contact information, along with a message from Chief of Police Sam Pitassi. Visit the police department website at http://www.melroseparkpd.com/.
Public Works

Sewer & Water Department
The Sewer and Water Department's role is to maintain and improve the village's system of streets, water mains, sanitary and storm sewer lines. Contact the Public Works Department at (708) 531-5347.

Streets & Sanitation Department
The Streets and Sanitation Department provides the following services: tree trimming on parkway trees, branch removal, leaf pick-up and snowplowing. Contact the Village of Melrose Park Streets and Sanitation Department at (708) 343-5128.
Public Notification For The Combined Sewer Overflow
Senior Services
Peggy DiFazio - Director of Senior Services
Hours: Monday through Friday, 7 a.m. - 5 p.m.
(708) 531-5330
E-Mail: peg@melrosepark.org
Taste of Melrose Park
For 2012 Taste info, please call Peggy DiFazio at
708-343-4000 Ext.4448

Peggy DiFazio - Director of Special Events & Taste of Melrose Park
(708) 343-4000
E-Mail: taste@melrosepark.org


Water Bills and Final Water Bills/Meter Inspections/Schedule Fire Pump Test
Rose Vazquez
(708)343-4000