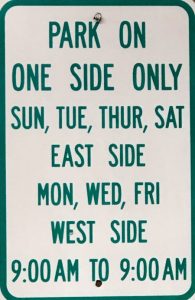 Beginning December 1st, winter parking rules are in effect throughout Melrose Park. Not observing the winter parking rules could result in a ticket.
Please observe the alternate side parking signs (as seen left) to avoid tickets. This program allows our plows and village snow removal crews to efficiently clean our village streets from winter debris.
No overnight parking in Winston Park or West Melrose
No overnight parking on east and west streets
If you live on the snow routes seen below please move your vehicles when there is two inches or more of snow on the ground or they may be towed. The ban remains in effect until the snow is cleared on that particular street. Thank you for your cooperation.
Armitage Avenue
George Street
Division/Carson
Main Street

Riverwoods Drive
9th Avenue
15th Avenue
19th Avenue
and the Industrial Area
Last modified: December 1, 2021